How did I get spyware & viruses?
ANSWER: Spyware comes from the internet and/or programs that are downloaded from the web. Spyware/Viruses originate from computer programmers in the world that make their living by tracking who you are, what sites you go to, personal information (such as birth date, social security number and financial information).
Spyware/Viruses can come from a variety of places on the internet. These include: phony media downloads, pirated music & videos, ad's, spam sites, and email attachments.

How do I avoid spyware?
ANSWER: Avoid suspicious websites (including: spam, pornographic, and torrent websites). Use caution when clicking on links to other websites. Check the source of emails and attachments. Don't download free or pirated music, videos or games. Stay away from ad's and social engineering attacks. Install only trusted and/or purchased software.

How do I remove spyware & viruses?
ANSWER: The first step to removing spyware/viruses is to boot your computer into safe mode. Followed by running a variety of antivirus/antispyware programs. Make sure to remove all temp files and remove unwanted registry startup tasks. (For step-by-step cleanup instructions visit our Basic or Advanced spyware removal pages).

How do I improve my computer's performance?
ANSWER: Remove temp files and clean broken registry keys with cCleaner. Then check/remove any spyware using the following programs (Malwarebytes, Spybot, & Microsoft Security Essentials). Defrag your computer's C: drive using Defraggler.
Check your computer's currently installed RAM using Crucial Scan. You may be able to add more memory to your machine, which can drastically improve performance and speed.

What are good computer maintenance tips?
ANSWER: Reboot your computer every day. Make sure to backup important data (documents, pictures, videos, financial info, etc). Weekly Tasks: Run cCleaner to remove temp files, clean registry and empty recycle bin. Monthly Tasks: Update/run antivirus & antispyware programs to check for infections. Remove any found threats and reboot computer if necessary. Remove any un-wanted or un-used programs from Add/Remove programs inside of Control Panel.

What are the best antispyware programs?
ANSWER: Top Antivirus Programs – (Microsoft Security Essentials, AVG 2015). Top Antispyware Programs – (Malwarebytes, Spybot, SuperAntiSpyware)

What is the difference between spyware & a virus?
ANSWER: Spyware/Malware can have a variety of effects: It can steal your personal information (identity theft). Also, floods your web browser with pop-up advertising, keystroke-logging, slows down internet connection, hijacks your browser and redirects to other URL's. It can also freeze up programs and crash your computer.
A virus trys to infect a computer and replicate. It's main goal is to infect as many computers as possible and as fast as possible. When you accidentally install a virus, the malicious code that is the virus tries to find ways to use your PC to infect other machines. Viruses can cause you to loose important data and damage your computer.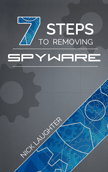 New Pocket Book Available!

Learn how to remove spyware like a
Pro in about an hour or less! Great for
home and office use.

Purchase Now | Lulu