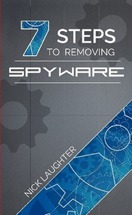 The new PocketBook | 7 Steps to Removing Spyware is available now!  This book is excellent for both work and home use.  Learn how to remove spyware, viruses, and malware like a Pro.  No need to pay $100, $200, or even $300+ at a computer repair shop.  Why pay someone crazy amounts of money when you can cleanup your PC on your own? You just need the right tools, and the right guide is all.
This book can help walk you through cleaning up your PC and get it running like the day you bought it. With over 7 years of experience as an IT Professional, I have found the best (free and easy) cleanup tools on the web.
Our step-by-step guide makes it easy to eliminate spyware, malware, adware, rootkits and viruses in about 1 hour or less. In addition, you will learn how to boost your PC's performance and improve Digital Hygiene. Digital Hygiene is a term used to describe the cleanliness or uncleanliness of one's digital habitat. This could be used to describe one's desktop icons, file structure, folder trees, Photoshop files or hard drive, Facebook page or digital persona." – cyborganthropology
Where Can I Buy?

Available at the Lulu Store now! It will be available at in Amazon, Barnes & Nobel and other retailers soon! 5% Discount from now until the end of 2015! Get the book for only $3.79 | Click here to purchase 7 Steps to Removing Spyware



eBook version available now at the Amazon.com | Click here to purchase 7 Steps to Removing Spyware eBook version.

Book Versions